Do you know
Cassie Kruemcke
of WirrWarr Wraps?
If you don't you should,
and we are happy to make the 
introduciton!
Cassie Kruemcke, an über-talented graphic designer, has spent over 25 years creating iconic brand campaigns for everything from beauty to boots. In 2020, she expanded WirrWarr Wraps (WWW), from in-person gift wrapping classes to her very own line of wrapping paper and wrapping accessories.

Cassie has a truly unique and happy sense of style that comes alive in all of her designs and one-of-a-kind wrapping techniques. She teaches those techniques all year long at classes and events, both in-person and virtual. There isn't a color or pattern she is afraid of, or willing to mix. It's all about the art of scale and coordination. 

It is her mission to create joy through the art of gift wrapping that is bold, funky, unique and insanely fun! Just like the name itself —WirrWarr is a German word that loosely translates to creatively fun chaos . It may be a tongue twister but I bet you won't forget it.
Cassie will be in the store
Tuesday, May 11
10 a.m. - 3 p.m.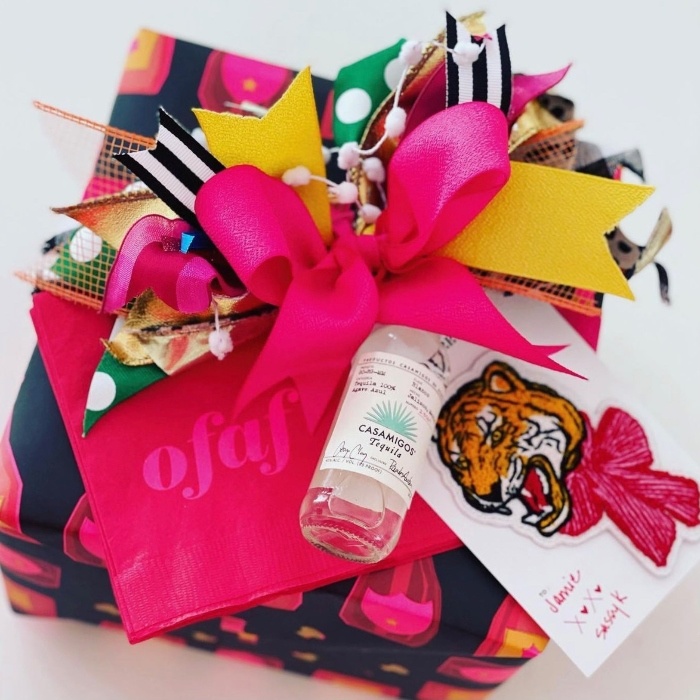 to help you wrap up any graduation gifts,
she will be offering gift wrap services
($20 includes wrap, ribbon and gift tag)
as well as wrapping paper to buy if you prefer
to do the wrapping yourself!
So, come by to say Hi!
Cassie is super cute,
super fun,
and a creative force...
and we are excited to have her in the store with us
for the day!
OPEN:
Tuesday THRU Friday
10 a.m. - 3 p.m.
+
BONUS HOURS
Saturday
10 a.m. - 3 p.m.