We hope that all of you had a 
happy and healthy 
Thanksgiving!
And while we enjoy one more day of rest,
we wanted to let you know...
We will be OPEN (10-3) tomorrow for 
Small Business Saturday!
And 
as a thank you,
we are offering you...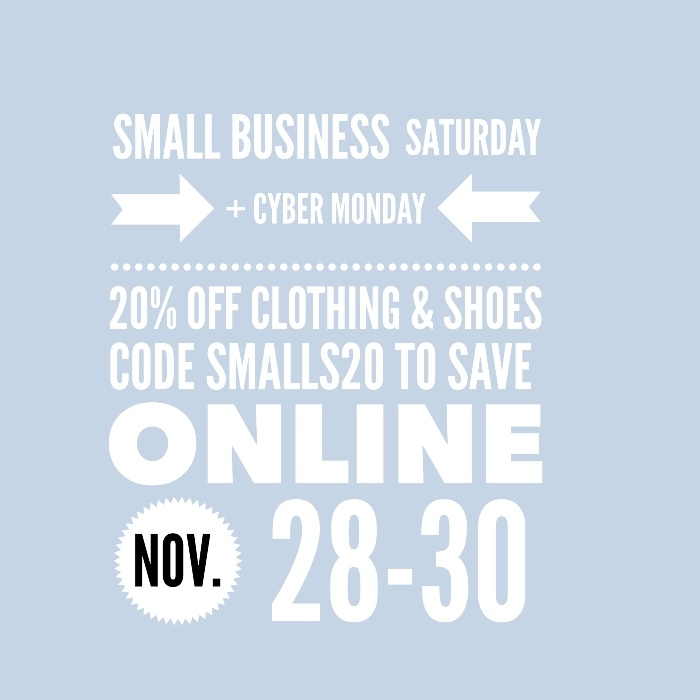 Yes, you read that right...
this year we are giving you 
MORE days and MORE ways 
to save
20% off clothing & shoes!
Options include...
1.  In store Saturday shopping
10 a.m. - 3 p.m.
OR/AND
2.  On-line with code SMALLS20
Saturday THRU Monday!
Need help shopping on-line,
want some advice on how things fit and styling suggestions?
Don't you worry...
Even though you are on-line,
we are still here to help just like if you were in the store!
Just reply to this email with your cell...
and we are happy to reach out during open hours to help you out!
Please note:
We are back to "regular" hours next week,
so we will be CLOSED Monday,
but will be there like little busy bees
fulfilling all your on-line orders!
And most important...
Thank you from all of us at YAH...
because we wouldn't 
be HERE without YOU!